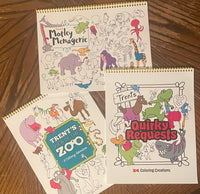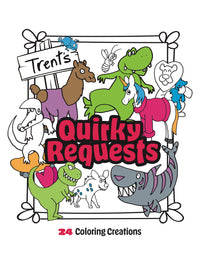 3 Pack Trent's Coloring Books
Choose your size & quantity below:
Product Info
SAVE $6.00 WHEN YOU BUY ALL 3! 
So many people love Trent's coloring books so we decided to put together a pack of all three, minus the crayons, so you could get them all for a special price.  You save $6 when you buy all three at once! 

Free Shipping on ALL domestic orders! 
What You Get:
1 Trent's View of the Zoo coloring book with sticker page
1 Trent's Motley Menagerie coloring book with sticker page
1 Trent's Quirky Requests coloring book with sticker page